IMEON 3.6
IMEON 3.6 is dedicated to single-phase photovoltaic systems for self-production with storage. This solar hybrid inverter with a power of 3kW perfectly suits residential applications. It works in all configurations: Smart-Grid / Off-Grid / Back-Up / On Grid.
Photovoltaic power from 2 to 4kWp
Storage capacity from 2 to 15kWh
Integrated WiFi and Web server
Lithium-Ion batteries compatibility
A.I. INSIDE
Buying an IMEON is a way to anticipate the future. With an embedded artificial intelligence,
IMEON will evolve with the tools of tomorrow. No more obsolescence!
ACCESSORIES FOR IMEON 3.6
Imeon 3.6 is associated with a range of accessories and a reliable and secure connection to simplify the installation. Robust and practical, these accessories contribute to the high quality of our inverters
Download your favourite apps!
Imeon Energy is constantly developing applications to help you get the most of your energy manager's capabilities.
Some applications will be particularly appreciated for residential installations in order to optimize the initial investment. These applications will allow your IMEON to integrate the latest technologies.
With IMEON, you will be astonished and impressed by the possibilities of your inverter!
TECHNICAL SPECIFICATIONS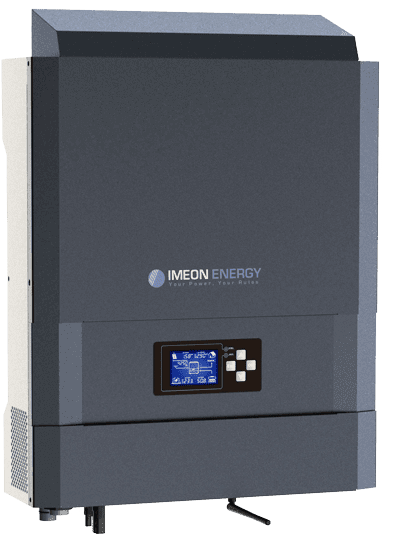 GRID AC (ON-GRID & OFF-GRID)
Rated output power

3000 W

Maximum output power (3 sec)

6000 W

AC voltage / Frequency (input & output)

230 Vac (±15 %) / 50 Hz , 60 Hz (±5 Hz)

Nominal output current

13A

Maximum input current

26A

Feed in to grid

Programmable (yes by default)

Energy consumption priorities

Programmable (PV / Storage / Grid)
SOLAR INSTALLATION
Maximum input power

Up to 4 000 Wp (1)

Number of MPPT inputs

1

MPPT voltage range

120 V – 440 V

Maximum input current

18 A

Maximum input voltage

510 V

Maximum efficiency

DC to AC : >95,5% (94,5% EU)
BATTERY & CHARGE
DC nominal voltage

48 Vdc

Maximum discharge current

80 A

Maximum charging current

25 A

Type of batteries

Lead-acid, Lithium(2)

Charging curve

3-phase (Bulk / Absorption / Float)

Maximum efficiency

PV -> batterie : >94% / Batterie <–> AC : >93%

Battery charge

Programmable (threshold / timing: multiple range by AC Grid)

Battery discharge

Programmable ( 2 thresholds according to grid availability)
GENERAL
Dimensions (w x h x d)

440 x 580 x 165 mm / 17.35 x 22.85 x 6.50 inch

Protection category

IP 20 (indoor installation)

Weight

18 kg

Technology

TL (transformless)

Operating mode

Smart grid / Back up – UPS / Off grid / On grid / VPP Ready

OS / Processor

OS: Linux Debian 8.7 Jessie – CPU: ARM Cortex (Texas Instrument) 32 bits
RAM : 8 GO of storage – Artificial Intelligence Inside – IOT Ready

I / O Connectors

Wifi 802.11 b/g/n 2.4 GHz – 2 USB 2 – 1 Ethernet IP
1 CAN bus – 2 RS485 – 1 relay 230 V 16A
4 analog inputs : 1 temperature probe – 3 electrical measurements

Conditions of use

Humidity level: 0 to 90% without condensation
T°C : -20 to + 50°C, degressive power >40°C (15W/°C)

Compliance

EN 62109-2 / EN 62109-1 / EN 62040-1 / DIN V VDE V 0126-1-1 (+VFR2013) / VDE-AR-N 4105 / EN 50438 DIN VDE V 0124-100 / Synergrid C10/11 / TF3.2.1 / AS4777.2 / AS4777.3 / NRS 097-2-1 / G83 / RD 1699

Guarantee

10 years (3) / Extension to 20 years (optional)