This application allows Imeon to switch a diesel generator on or off in function of the state of charge of the battery bank connected to the inverter.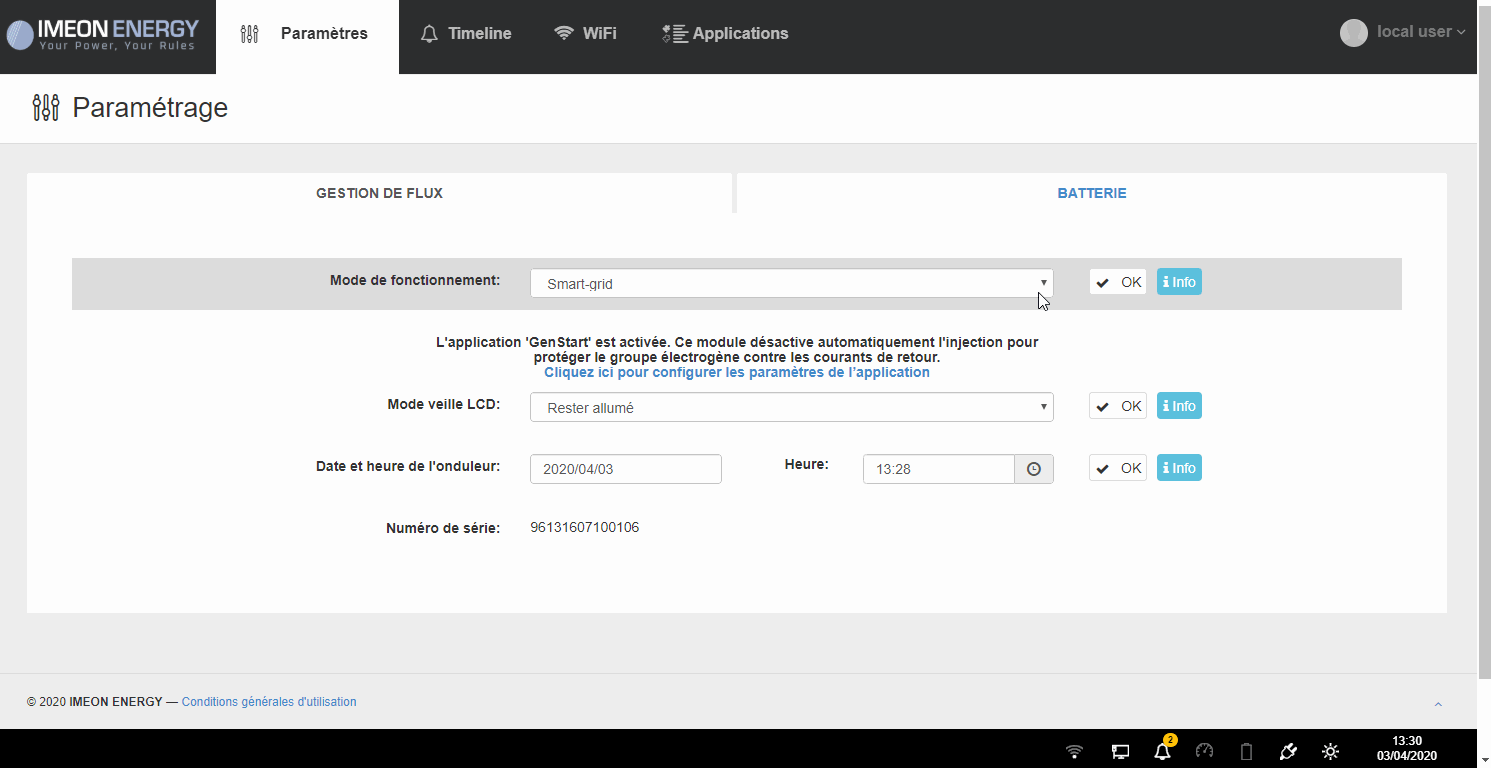 Visuel of the application Gen Start
Integrated into the IMEON OS. ONE operating system, the "Genstart" is an innovative application developed by IMEON ENERGY and accessible free of charge to owners of an Imeon hybrid inverter.
Continuous electrification of isolated sites is a complex engineering challenge which may require coordination between multiple various sources of power. Imeon Energy introduced Genstart application, conceived to simplify the design of power plants using diesel power generators (called gensets) and Imeon solar hybrid inverters. An Imeon coupled with a diesel generator, thanks to the application, will use solar energy as well as the energy stored in the battery to electrify the site. In case the battery has been emptied, the application will use the relay switch built into Imeon inverters as a standard, to turn the generator on. This process is completely automated and managed by Imeon, does not require manual transfer switches or any intervention after initial setup. What is more, any generator capable of remote activation, equipped with voltage and frequency output stabilization features can be coupled with Imeon. The latter is necessary since a load step can cause a generator with non-stabilized output to lower its voltage below Imeon's detection threshold, which would result in disconnection. The generator should also be sufficiently powerful to power up the loads and charge the battery at the same time. Once the battery is charged, the relay switch will shut down the generator and Imeon will continue to supply power coming from the PV array and the battery.
The introduction of Genstart application effectively simplifies the design of the powerplant since the 'all in one' Imeon hybrid inverter is capable of managing the photovoltaic array, battery, loads and diesel generators, eliminating the need for complex multi-device setup. The complete system will occupy less of precious surface and can be fully configured through a single interface. What's more, the inverter will prioritize the use of clean solar energy therefore reducing the runtime of its genset to when it is needed.
Much more than a manufacturer of solar hybrid inverters, IMEON ENERGY is constantly developing new software applications and working on projects related to artificial intelligence in order to improve the performance of its solutions and the satisfaction of owners of IMEON hybrid inverters.
Let us know if you'd like to learn more about our smart solutions using contact@imeon-energy.com.