This Imeon application allows the inverter to make a forecast of the solar plant's production for the next 12 hours.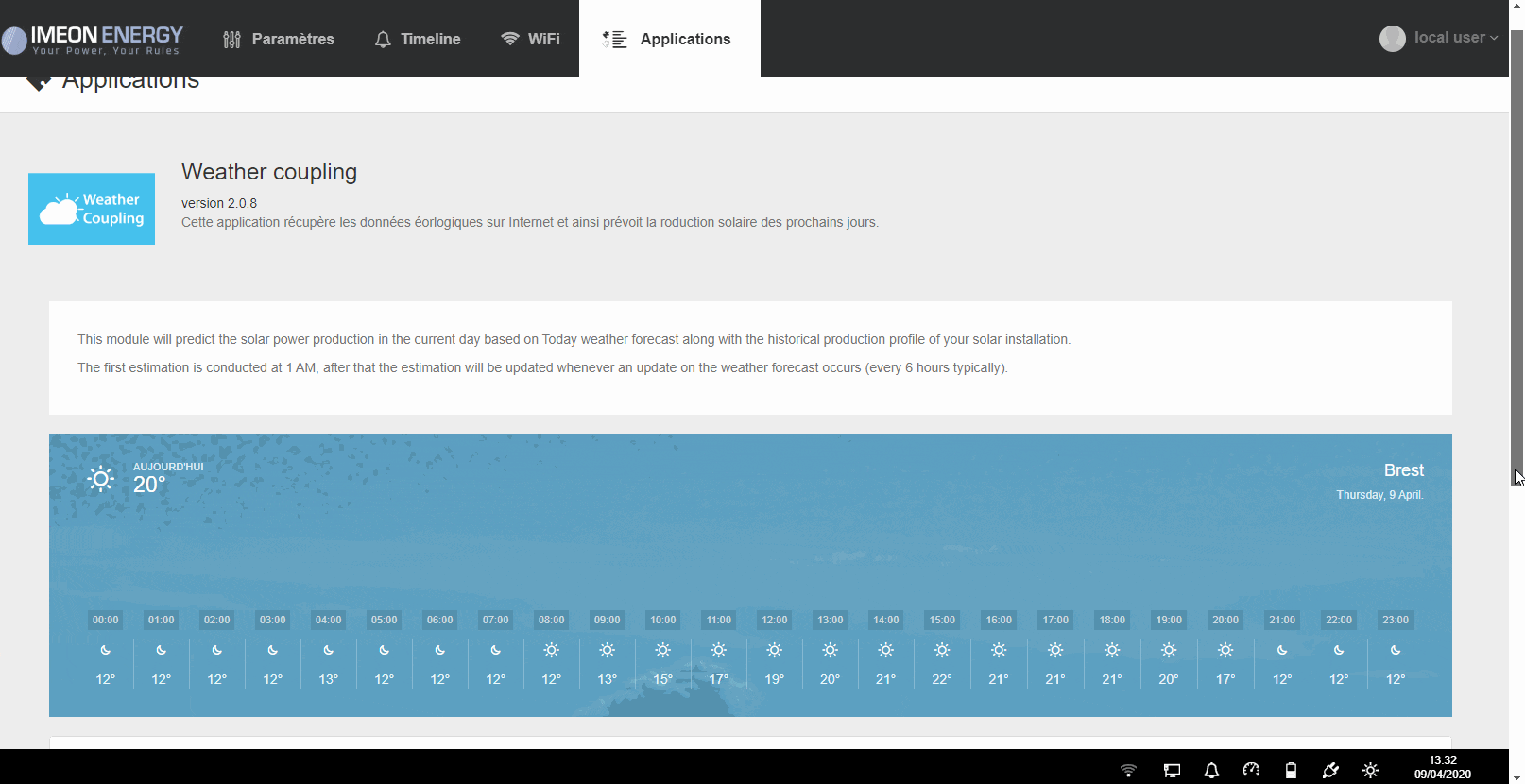 Weather Coupling interface application
Integrated into the IMEON OS. ONE operating system, the "Weather Coupling" is an innovative application developed by IMEON ENERGY and accessible free of charge to owners of an Imeon hybrid inverter.
This application does not only use weather data converted into a probable energy output, but also adjusts this data in function of the actual output of the solar array at the production site. After all, the most accurate weather sensor is a solar panel, since it is already located at the production site and its real-time power output corresponds precisely to the real-time weather conditions.
The forecast data is important because it allows the user to plan the operation of certain appliances such as washing machines, dishwashers or dryers according to the expected production. It becomes very simple to create your own off-peak solar tariff based on the system's production forecast.
It gets even better! The data calculated by this application is also used by other Imeon applications, such as "Smart-Load", which, by cross-referencing the forecasted production data with that of the "Forecast Consumption" application and artificial intelligence algorithms, will plan and automatically start-up various electrical appliances with the aim of making maximum use of the production generated by the photovoltaic installation and to improve the autonomy rate of the equipped site.
Much more than a manufacturer of solar hybrid inverters, IMEON ENERGY is constantly developing new software applications and working on projects related to artificial intelligence in order to improve the performance of its solutions and the satisfaction of owners of Imeon hybrid inverters.
Let us know if you'd like to learn more about our smart solutions using contact@imeon-energy.com.